Weekly Shabbat Services and Dinners are a Hallmark of Texas Hillel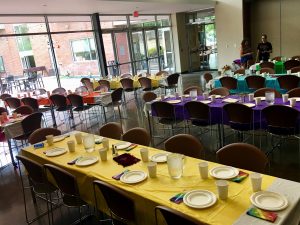 Friday nights are a special time at Texas Hillel.  Every week, an average of 130 students, staff, faculty and community members come together to welcome the Sabbath and to join friends and "family" for an evening of camaraderie and shared Jewish experience. As Allison Stern, a sophomore Public Health major from San Antonio, TX, says "I go to Shabbat at Hillel for the strong sense of community. It is important being at such a large university to find a place you can call home. Going to services and catching up with your friends at dinner is a great way to end a stressful week of school. We all run such busy lives, but at the end of the week, we get to put that all aside and have a nice meal together." For many at Texas Hillel, Shabbat is the highlight of the week and what keeps them coming back to Hillel.
With the goal of helping students find their own Jewish identities, Texas Hillel's pluralistic Shabbat experience includes Reform and Conservative Services, our award-winning Vintage Minyan and a Social Justice Discussion. Afterwards, everyone is welcome in the dining hall to share a delicious kosher meal (free to all students). Texas Hillel's Shabbat has long focused on the student-Shabbat experience. Services are led by students for students, the dining room is set up by students, the theme and decorations are planned and put up by students, and students often help with cooking and serving the meal. We often host themed Shabbats, such as Pride Shabbat, Interfaith Shabbat and Mental Health Awareness, where the topic is incorporated into discussions, services and even dining hall decorations.
All students and community members are welcome to join us for Shabbat services and meal. As Assaf Baruchi, our Jewish Agency Israel Fellow, notes "The Shabbat atmosphere at Hillel is spiritual and inspiring. As someone from Israel, I've never experienced such diversity in the Jewish world under one building. Everyone is welcome, Jews and non-Jews alike, and we all gather under the same roof and enjoying the most unique night of the week." For more information or to sponsor a Shabbat dinner, contact Helaine Wolf.