UT Goes to AIPAC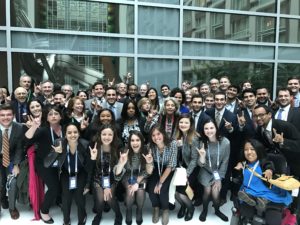 AIPAC held its annual Policy Conference on March 4-6 in Washington, DC.  The conference is the pro-Israel community's largest annual gathering.  In keeping with this year's theme, "Many voices, one mission", more than 18,000 community members and activists from all 50 states, two-thirds of Congress and students from 630 U.S. campuses attended hundreds of informative sessions, speeches, panels and parties with the goal of strengthening the US-Israel relationship.  This year, a delegation of 37 students and 3 staff members, including incoming Executive Director Maiya Chard-Yaron, attended the conference from the University of Texas at Austin. 
This year's UT delegation was the largest one to date to attend the conference.  The UT delegation included the past and newly-elected Student Body Presidents, newly elected Student Body Vice President, members of the Black Student Alliance and Texas Hillel Executive Cabinet members, interns and pro-Israel advocates.  During the conference, Texas Hillel hosted a reception for students, donors and community members to mingle.  The conference concluded with the delegation lobbying members of Congress.    
The AIPAC Policy Conference began on Sunday with educational sessions that focused on strengthening U.S.-Israel relations and lessons in proactive engagement.  On Monday, students attended sessions on defeating BDS and learned historical perspectives of Israel on campuses for future advocacy.  Throughout the conference, students had the opportunity to hear from an impressive list of speakers: Prime Minister Benjamin Netanyahu, via satellite, Ambassador Nikki R. Haley, and Republican and Democratic members of Congress, such as Vice President Mike Pence, Paul Ryan, Chuck Schumer, Nancy Pelosi and others.  The AIPAC Policy Conference was a fantastic opportunity for the UT delegates to learn and strategize for Israel-U.S. relations.