Tzedek & Social Justice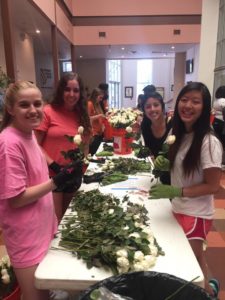 Tzedek, Tikun Olam, and social justice are some of Hillel's core values.
Our programs include:
Addressing Poverty Committee: This committee oversees Hillel's initiatives to address poverty, including weekly opportunities to build relationships with the Austin street community and to encourage them to write for Austin's street newspaper, The Challenger. We also participate in weekly direct service with hunger organizations such as Micah 6 and God's Family Dinner on the University of Texas Campus. We are also strengthening our relationship with Community First, a supportive community with affordable housing for people experiencing chronic homelessness.
For more information, contact Ashley Livitz at ashlivitz@utexas.edu.
Alternative Breaks: The Alternative Breaks provide students with immersive volunteer experiences that educate them and foster a lifelong commitment to service. Framed by the Jewish values of Tzedek (righteousness), gemilut chasidim (acts of loving kindness), and tikkun olam (repairing the world), Hillel empowers students to take ownership over their own service experiences, and to think intelligently about direct service, advocacy, education, and social justice while bringing meaningful social change.
Challah for Hunger: Weekly challah baking and selling, with all proceeds going to Mazon and the Capital Area Food Bank. Every Tuesday from 5-7 and Wednesday, 10-2
For more information, contact Haley Steinman at hsteinman@utexas.edu or Zoe Wolozsko at zoewolozsko@utexas.edu
Education Committee: This committee oversees Hillel's education initiatives, through fun and meaningful projects. First, we have weekly mentoring and tutoring with Communities in Schools (CIS) of Central Texas through their Reading Buddies program. Each college student is paired up with an elementary school student for a semester-long mentorship program. Second, we have volunteering at Inside Books Project twice a semester, which donates books to incarcerated individuals in Texas prisons. We also collaborate with the Boys and Girls Club of Austin where we host Art and Science programming.
For more information, contact Kori Epstein at kori.epstein44@gmail.com.
Friday Night Social Justice Conversations: Every Friday, we offer social justice conversations as part of the Friday night service options. Conversation topics include race, power, and privilege, with a focus on intersectionality. We are working to make these conversations interfaith through our relationship with Labyrinth progressive student ministry.
Gender Justice and Social Issues Committee: This committee oversees Hillel's gender justice initiatives. We provide a number of opportunities to discuss and act on feminist issues. We have a relationship volunteering with Posada Esperanza, a transitional living facility for asylum seeking mothers and children. We also work with GENAustin, a girl's empowerment organization in Austin. We attend the Gender and Sexuality Center's Feminist Friday's conversations.
For more information, contact Ally Karpel at AllyKarpel@yahoo.com.
Interfaith Committee: This committee oversees Hillel's interfaith initiatives. The University Interfaith Council meets biweekly to build interfaith ties and discuss and act on social justice issues. Last year, we hosted an Interfaith Panel addressing homelessness. We have a relationship volunteering at Community First, a community that provides affordable, permanent housing for people experiencing chronic homelessness. 
Jewish-Latino Student Coalition:  The Jewish-Latino Student Coalition is meant to bridge the Latino and Jewish communities because we are both marginalized groups who share common values and struggles. We believe that we can give and receive support to each other through open dialogue and thoughtful communication as allies and friends.
For more information, contact Jenna Conwisar at jenna.conwisar@gmail.com or Melissa Cossio at melissa.cossio@utexas.edu.
Racial Justice Committee: This committee oversees Hillel's Racial Justice initiatives. The continuing relationship between Hillel and the Black Student Alliance included an event in 2016 about the past, present, and future of Jewish and Black communal relations, with Dr. Leonard Moore as the featured speaker.
For more information, contact Jason Epstein at jwesptein96@gmail.com.
Social Justice Council: The Social Justice Council is a brand new committee that will oversee and coordinate Texas Hillel's social justice efforts. It provides support to each initiative as needed, while organizing larger-scale projects and ensuring the preservation of Hillel's long-standing social justice relationships with the greater Austin community.
Social Justice Fellowship: The Social Justice Fellowship is a new social justice and leadership development program featuring Jewish social justice education and volunteering opportunities. Participants meet twice a month to not only discuss social issues in the community, but to also volunteer and build an ongoing relationship with local non-profit, Posada Esperanza.
For more information, contact Ally Karpel at AllyKarpel@yahoo.com or Eileen Wolfowicz at EileenWolfowicz@gmail.com.
White Rose Society: The White Rose Society is a human rights organization focusing on genocide prevention and Holocaust remembrance. We work to take action against global injustices with education and initiatives on a local level. Currently, we are working to support the Genocide and Atrocities Prevention Act and build our volunteer relationship with Casa Marianella.
For more information, contact Leah Kashar at LeahKashar@gmail.com or Sophie Jerwick at Sophie.Jerwick@gmail.com.