Texas Hillel TAIPAC Cadre Receives the National AIPAC Acticvist of the Year Award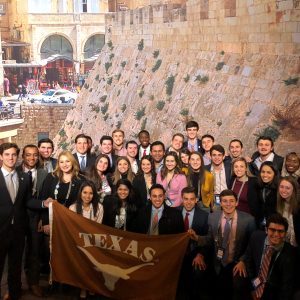 As announced at AIPAC Policy Conference last month in Washington, D.C., Texas Hillel TAIPAC Cadre won the National AIPAC Activist of the Year award. The award will be presented to the students on April 18 at an AIPAC event in Austin.  The event will feature Adam Teitelbaum, AIPAC Leadership Development Director, and Maiya Chard-Yaron, Texas Hillel Executive Director, discussing Israel advocacy and college campus issues.  This is a tremendous honor the for Cadre and Texas Hillel, recognizing the students' dedication, passion and activism for Israel.
Last semester, TAIPAC and Texans for Israel held a landmark bipartisan Leadership Dinner with over 100 student leaders.  In attendance were two members of Congress, Democratic Representative Deutch and Republican Representative Webber, and the Consulate General from the Israeli Consulate in Houston. Student Government Alliance President Alejandrina Guzman and Isaiah Carter spoke at the Leadership Dinner.  The event highlighted leaders on campus and the pro-Israel community.
Other accomplishments from the past year include hosting Lillian Pinkus, AIPAC President, on campus.  Lillian spoke to100 students, Jewish and non-Jewish.  The cadre and other students learned about the work AIPAC is doing on the Lay-leader side.  Additionally, the Pro-Israel community released a video displaying wide support for Israel at the University of Texas.  In the video, there are many prominent student leaders, including the current and former Student Government Alliance Presidents who both attended last year's policy conference, giving their support for Israel.
The cadre at UT consists of 20 passionate, educated and determined students, including 6 new freshmen, the largest freshmen class of Texans for Israel.  The cadre has also built amazing relationships with the AIPAC community in Austin and around Texas and continues to advocate effectively for Israel on the UT campus.