Texas Hillel Goes to Aipac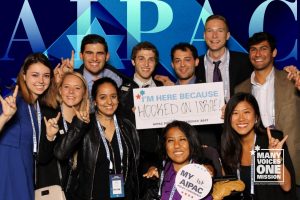 A large student and staff delegation from the University of Texas and Texas Hillel will attend AIPAC's annual Policy Conference on March 4-6 in Washington, DC.  The conference is the largest annual pro-Israel community gathering.  At the conference, more than 18,000 community members and activists from all 50 states, two-thirds of Congress and more than 3,600 students from 630 U.S. campuses will have the opportunity to attend hundreds of informative sessions, speeches, panels and parties with the goal of strengthening the US-Israel relationship.  Conference delegates will also have the opportunity to lobby members of Congress regarding US-Israel legislation.
The AIPAC Policy Conference is a fantastic opportunity for the UT delegates to learn, build relationships and strategize to strengthen Israel-U.S. relations.  To help send students to the conference, visit texashillel.org/pc or contact Liza Levine.