Texas Hillel Celebrates Israel at the 21st Annual Israel Block Party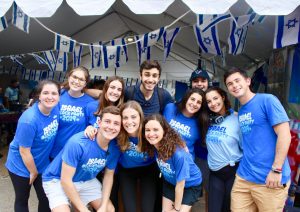 Texas Hillel celebrated and showcased many aspects of Israel to UT students, faculty and community members at its 21st annual Israel Block Party on April 23 at Gregory Gym Plaza. Designed to engage and teach students and community members about Israel in an exciting and interactive way, this year's Block Party highlighted Israel's innovation, diversity, culture and Passover with a shuk- theme (Hebrew word for market). With more than 1,000 visitors throughout the day, Israel Block Party brought awareness, Israel advocacy and education to the UT campus community.
Located on the Plaza for the first time, the new site offered increased visibility and foot-traffic and allowed space for new activities such as a rock climbing wall. Guests walking through the busy market got to experience a little bit of Israel with a food, shopping, area simulated Bedouin tent, discussion area and, for the first time, a silent disco. During the four-hour event, guests schmoozed and talked Israeli politics at the discussion area, facilitated by students. We were joined by several community partners including the Schusterman Center for Jewish Studies, Shalom Austin, Camp Young Judea, URJ Greene Family Camp, Birthright Israel and JNF. Student-favorite activities included learning Hebrew, experiencing the "Dead Sea", henna tattoos, rock climbing and selfies with camels. And, in keeping with Kosher for Passover foods, matzah ball soup, shawarma, kebabs and Israeli salads were available.
As the largest pro-Israel college event on a college campus, Israel Block Party continues Texas Hillel's commitment to building a pro-Israel environment on campus. Students and staff worked tirelessly for months to make this event possible because of its important message. As Event Co-Chair Nicole Nissan, a sophomore from Roslyn, NY majoring in Supply Chain Management and minoring in Entrepreneurship, says "I am so thankful I had the opportunity to be a part of an incredible, and important pro-Israel event on campus. Co-chairing the event was a once in a lifetime experience and it meant a lot to see our community come together to engage, learn, and celebrate our state of Israel. I'm incredibly proud of all the student leaders that helped make IBP a huge success, and look forward to supporting IBP in the future!!" With more than 48 student leaders and 80+ volunteers and record-breaking attendance this year, we accomplished our goal of engaging and teaching the campus community about Israel in a festive, interactive way.