Texas Hillel Aids Harvey Relief Efforts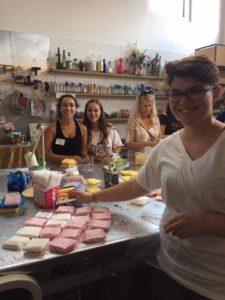 Texas Hillel's mission is to create opportunities for all Jewish college students in Austin to develop their own Jewish interests, promote ongoing involvement in Jewish life and inspire future Jewish leaders. Central to this vision is tikkun olam, the Jewish value of repairing the world. Our commitment to tikkun olam and our drive to support in-need communities are why Texas Hillel students and staff are dedicated to helping those most in need and volunteering to rebuild communities affected by Hurricane Harvey.
On September 25, the Sunday between Rosh Hashanah and Yom Kippur, Maiya Chard Yaron, Executive Director, Rebecca Mather, Social Justice Coordinator, and a group of students made their first trip to Houston to volunteer with All Hands, a disaster relief organization working in partnership with Jewish Federation Greater Houston. As Rachel Sasiene, Houston native and senior majoring in History and Jewish Studies, said of volunteering in Houston, "For me going to volunteer was just like helping my own community. My family and home made it through the storm just fine. But for people who lost everything maybe a second or third time like those in the Meyerland area, it can be a daunting task to rebuild yet again. Lending a helping hand never goes unappreciated. Hillel gives me the opportunity to do this."
Students will have another opportunity to volunteer in Houston on November 12 with NECHAMA, an organization that provides natural disaster preparedness, response, and recovery services nationwide. NECHAMA's work is rooted in tikkun olam and offers help to all people affected by disaster on the basis of need regardless of religious affiliation. Students and staff will do construction work to help rebuild homes flooded by the hurricane.
Locally, in conjunction with the Homeless Period Project, students collected and packaged supplies for people impacted by the hurricane. Texas Hillel has hosted small group discussions, using Jewish texts as guides, to talk about how to most effectively respond during crises. Additionally, students have met with people affected by Hurricane Harvey to listen to their stories. 
Texas Hillel's social justice program is one of its' foundational pillars that fulfills our mission and helps make Texas Hillel unique. As one of the few Hillels with a dedicated Social Justice Professional, we are able to balance volunteering on the ground in Houston, its surrounding communities and locally in Austin for Harvey relief, with offering numerous social justice advocacy and volunteer programs on campus. As Rebecca Mather states, "By having a full-time staff member devoted to social justice work, Texas Hillel is able to plug students into a wide-range of meaningful social justice learning and action opportunities, all through a Jewish lens. Texas Hillel is able to be a key step in our students Jewish and social justice journeys." Through Texas Hillel, more than 150 students participate in wide-ranging programs and volunteerism, addressing poverty, gender, racial, justice and social issues, often carried out with and discussed through a Jewish lens.
We know that communities affected by Hurricane Harvey will be recovering from the devastation for years. Texas Hillel is committed to helping southeast Texas rebuild for as long as it takes. To learn more about Texas Hillel's volunteer efforts for Hurricane Harvey, go to https://texashillel.org/hurricane-harvey-volunteering/.  To learn more about our Social Justice programs, contact Rebecca Mather.