Texas Birthright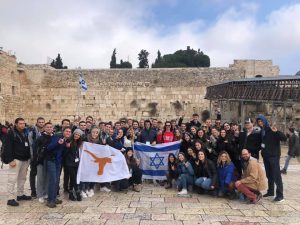 This winter's Birthright trip was an experience of a lifetime! Sixty University of Texas students had an unforgettable time traveling around Israel for 10 days. With a full schedule, the group saw every corner of Israel – travelling all the way south to Eilat and all the way north to the Galilee. The students also visited Jerusalem, Tel Aviv, Tzfat, Tiberias and many other stops along the way.
Throughout the ten days, students connected with 11 Israeli soldiers and have continued to stay in touch with them. Henry Corwin, a sophomore journalism major from Long Island, NY, particularly enjoyed an activity "towards the end of the trip when students and soldiers on our trip debated issues regarding the importance of Judaism and Israeli politics. It was especially cool to hear the Israeli opinions on these issues."
Other trip highlights included visiting Masada and the Western Wall. One morning, students woke up at 4:30 am and hiked up to Masada to see the breathe-taking sunrise. Visiting the Western Wall was especially meaningful for many students. Henry says "It was special to see people of different color and ethnicities all at the same wall, praying in whichever way they wanted to." This trip deepened students' awareness and bond to Israel and we look forward to staying connected to students with several Birthright reunions this semester.
Another Birthright trip is planned for May 27 – June 7, 2019.  To learn more about the trip, contact Ashira Boxman.