Social Action Programs at Texas Hillel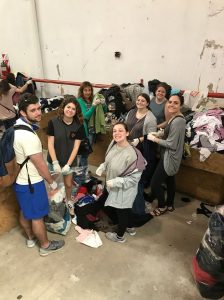 One of Texas Hillel's pillars is tikkun olam, repairing the world. Through numerous social action and community service programs, Texas Hillel students donate, volunteer, organize, lead, create awareness and build community relationships. Students are making a difference now and will continue to contribute as future Jewish leaders and activist.
Social Justice Council
Our social justice programs begin with the Social Justice Council. Members of the Social Justice Council are trained in community organizing and engagement techniques. They meet bi-weekly to learn, develop organizing skills, and strategize about Hillel's Tzedek structure and program offerings.  Comprised of 15 student leaders from each social justice initiative, the council focuses on organizing around a different social justice issue area and creating a ladder of engagement for students.
Bella Abzug Social Justice Fellowship
The Bella Abzug Social Justice Fellowship is a year-long fellowship that meets weekly to learn about social justice as a Jewish value. The fellowship alternates weekly between students learning at Hillel or volunteering at Posada Esperanza, a transitional living community for immigrant and asylum-seeking women and children escaping domestic and/or cultural violence. The fellowship is an immersive entrance into different issues that sparks a passion for leadership in social justice programs.
White Rose Society (WRS)
This organization focuses on Holocaust remembrance, genocide awareness and human rights advocacy. White Rose Society offers bi-weekly meetings with either internal discussions or discussions with outside community experts.  Topics have included an exploration of the ADL pyramid of hate, the universal declaration of human rights, the Rwandan Genocide, the genocide in Myanmar, the Syrian refugee crisis, and solitary confinement. Each spring, we host 10,000 Roses, an event dedicated to Holocaust remembrance and action around a current human rights atrocity.
Addressing Poverty Committee
This committee oversees Texas Hillel's anti-poverty initiatives. We volunteer with The Challenger, Austin's street newspaper, and participate weekly with hunger organizations such God's Family Dinner on the University of Texas Campus. We also work with Community First, a supportive community with affordable housing for the chronically homeless.
Alternative Breaks
The Alternative Break program provides students with volunteer experiences which educate and aim to foster a lifelong commitment to service. The activities are framed by Jewish values of tzedek, gemilut chasadim, and tikkun olam. Students can participate in an alternative winter break trip to work with terminally ill children with Give Kids the World (GKTW) in Kissimmee, Florida or go on a trip to New Orleans, to explore questions around mass incarceration and race.
Education Justice Committee
The Education Justice Committee works on two fun and meaningful projects. One is the monthly volunteering at Inside Books Project, which donates books to incarcerated individuals in Texas prisons. The second is Crazy Science Extravaganza (CSE), a hands-on, kid-friendly science fair run in partnership with Boys & Girls Club of Austin.
Food Justice
Through volunteer opportunities, we increase our awareness of the prevalence of food scarcity and malnutrition, while creating a meaningful connection between students and affected communities. As part of the food justice area, Challah for Hunger is a student-led organization that bakes and sells Challah to help fight hunger locally and globally. We donate our proceeds to the Central Texas Food Bank and Mazon International Hunger Relief Fund.
Gender Justice and Social Issues Committee
Texas Hillel partners with the UT Gender and Sexuality Center to offer opportunities to discuss feminist issues as well as periodic workshops on issues related to gender and sexuality. We volunteer with different organizations in the community, including the Homeless Period Project and the Women's Empowerment Conference (WECon).
Latino-Jewish Student Coalition
The Latino-Jewish Student Coalition was formed as a bridge between the Latino and Jewish communities as  minority groups who share common values and struggles. The group comes together for an annual Shabbat celebration, holiday programs, discussions and speakers throughout the year.
Interfaith Initiatives
The student division of the University Interfaith Council is a collective of students of different faiths joining together to build relationships with one another through social events, faith-specific events, and volunteering. Last semester included an Interfaith Shabbat, panel discussions, and a day of service
Shabbat Discussions
Led by Social Justice Coordinator, Rebecca Mather, in partnership with a rotating student, each week Texas Hillel offers a conversation about a social justice topic as an alternative to Shabbat services. Conversation topics have focused on racism and anti-Semitism, water and environmental issues, the #MeToo campaign and other current events.
To learn more or to support any of these programs, contact our Director of Social Justice Programs Rebecca Mather.