Q&A with Assaf Baruchi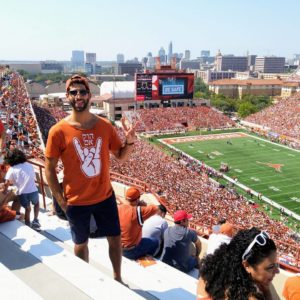 TH: As the Jewish Agency Israel Fellow, what is your role at Texas Hillel?
AB: My roles are diverse, on the one hand there is all the Israel programming that I lead and coordinate and I'm also an adviser to the student leaders.  It's great to lead the Israel advocacy on campus and work side-by-side with pro-Israel organizations just as SWU, David project, Hasbara fellowships, ICC, IAC and many more.  I'm able to give the UT students a genuine Israeli experience, through the 'Birthright' trip that we lead, and through my unique Israeli personality and life story that I share with my students every day.  I also help the Texas Hillel staff to strengthen the Jewish identity of the students who feel a need to do so, by offering a unique atmosphere of Jewish education, spirit and fun.
TH: How did you get involved with the Jewish Agency Israel Fellow?
AB: I wanted a job that will give me the opportunity to work with Jewish communities abroad in order to strengthen the connection between us, while I'm also 'playing' a role in advocating for my country to the entire American community by telling them my story and beliefs.
TH: Which programs so far have been the most successful?  What's the next big program? 
AB: The biggest and most successful so far was the Texans for Israel (TFI) Falafel Dinner, which opened the year with a big celebration of the Israeli culture with authentic food and music, while also introducing the students to a variety of ways to get involved with Israel throughout the year. 
We are looking forward to Hanukkah Diwali, where Jews and Hindus on campus come together to celebrate their religions' festival of lights, bringing both communities closer with a fun and energetic night.
TH: What's the best part of your job at Texas Hillel?
AB: I get to know knowledgeable, intelligent and fun students every day, they see in us, the Israel fellows, more than just as educational role model, but also a big sibling who they can share whatever is on their mind and get our support and cool advice.
TH: What are your impressions of Texas Hillel?  Of Austin?
AB: Our Hillel is AMAZING, the staff members are becoming my closest friends, and the facility is a big, modern and beautiful building that attracts the whole UT society.  Austin has all you can ask for, there is always a festival going on! Austin is just beautiful with a terrific music scene, world class restaurants and sport attractions. Everything is bigger in Texas, but even more so in Austin!
TH: Tell us a little about yourself.
AB: I'm 26-years old and my hometown is Nahariya, in the north of Israel.  I finished my State Science BA degree at Yizrael Valley College.  My favorite hobbies are hiking, traveling, playing all kinds of sports and spending quality time with family and friends, mostly at the beach….