Q & A with Joe Mabry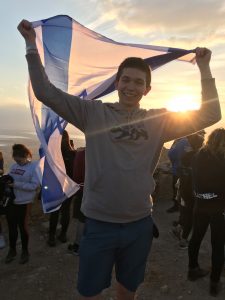 TH: Can you tell me a little about yourself? Where are you from? What are you studying?
JM: I'm in my second year of pursing a degree in Government as well as a Commission with the Texas Army National Guard through Texas Army ROTC. I'm originally from Houston, Texas but I took a gap year with a national educational nonprofit called City Year teaching 5th grade English in the South Bronx. I hope continue my commitment to public service by pursuing a Law Degree in the future.
TH: What is your current role at Texas Hillel? Previous roles?
JM: I serve as an Engagement Intern at Texas Hillel and I was previously the coordinator of Hillel San Antonio's Israel Block Party.
TH: You recently transferred to UT. How has Texas Hillel helped you with the transition?
JM: Although this is my first year at UT since I transferred from the University of Texas at San Antonio, I feel extremely blessed to have Hillel and the Texas Jewish community's support in making my transition as smooth as possible. Just like at UTSA, UT Hillel as provided friends, community, and a place for me to explore my Jewish identity. However, the larger campus offers a bigger opportunity to participate in reform Shabbat services, Israel advocacy, and Social Justice programming.
TH: How is Texas Hillel is meeting students' needs and interests?
JM: There are opportunities I would have never gotten without Hillel and would not been nearly as transformative without the amazing friends I've made on my Jewish Journey.