Q & A with Samantha Shaps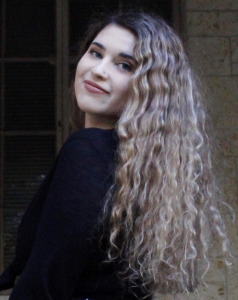 TH: Tell us a little about yourself? Where are you from? What are you studying?
SS: I'm a sophomore double majoring in Journalism and Radio-Television-Film. I also have a special interest in learning Yiddish and I frequently engage with Yiddish culture. I'm from Bandera, a small town outside of San Antonio. In Bandera, I live on a farm with horses, cows, chickens and various livestock. I've been riding horses since I was five. It's extremely odd staying home during breaks from school because I start to notice the cows mooing in the mornings and the roosters crowing at feeding time.
TH: What is your current role at Texas Hillel? Previous roles? Have you been involved in other ways at Texas Hillel?
SS: I hold various roles at Texas Hillel. I am a Campus Engagement Intern, a chair on the Challah for Hunger board and a participant in the Social Justice Committee. More than anything, though, I consider myself a common face at Texas Hillel. I like to interact with as many people as possible!
TH: How did you initially get involved at Texas Hillel?
SS: Even before starting school at UT I knew that I wanted to be involved in some way at Texas Hillel. Growing up, I wasn't surrounded by a big Jewish community and Texas Hillel has the opportunities and thriving community I always wanted. No one had to recruit me for Birthright, because I immediately looked for the trip coordinator and signed up on the first day of registration. I also signed up for every club offered at Texas Hillel just to keep my options open and I was able to meet a wide variety of groups.
TH: What are some of your favorite activities or programs?
SS: I love the Israel Block Party and I enjoy working with Challah for Hunger. This is my second semester on the board and it's been such a good experience. I also really enjoy working as a Campus Engagement Intern because it allows me to engage Jewishly most of the time.
TH: Do you regularly attend Shabbat services and dinner?
SS: Yes! I've been attending services since the fall semester of my freshman year. I look forward to services at the end of each week and it gives me the opportunity to spend quality time with friends. This year, I've taken on a bigger role by leading reform services. It's been so amazing and I look forward to continuing.