Q & A with Ethan Robinson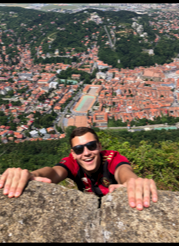 TH: Tell us a little about yourself? Where are you from? What are you studying?
ER: I am from Atlanta, GA. I attend the University of TX in the McCombs School of Business. I am currently majoring in Supply Chain Management and hoping to secure a Global Management Certificate and an Entrepreneurship minor. I am also a member of ZBT.
TH: What is your current role at Texas Hillel? Previous roles?  What other ways have you been involved at Texas Hillel?
ER: Since first stepping on the UT campus I have loved participating in Hillel activities and my favorite part is the sense of comfort and community that I feel once entering the building. I am a member of the UT AIPAC Cadre (UTPac) and this year I served as the Student Leadership Dinner Co-Chair where we planned a dinner to educate approximately 100 student leaders from different aspects of campus life on the American Israel relationship and how it affects us on campus. I am also a Hillel Campus Engagement Intern whose goal is to form relationships with Jewish students and engage them about their Jewish identity. This year I am serving as the Israel Block Party Executive Co-Chair. This is the largest pro-Israel event on a college campus in the country and is a fun and engaging celebration of our Jewish homeland.
TH: Why did you want to be an Israel Block Party Co-Chair?  What has the experience been like for you so far?
ER: Before my freshman year of college, I took a gap year through a program called Kivunim where I lived in Israel and took classes, volunteered, traveled around Israel, and visited other Jewish communities in 18 different countries. I absolutely fell in love with Israel and gained a new passion for my Jewish identity, and an overwhelming love for the State if Israel. My admiration for Israel is completely apolitical as my culturally immersive experience gave me a newly discovered admiration for all that Israel has to offer and for all those who live there. At UT there are a lot of Jewish organizations and opportunities to get involved. I have found Israel Block Party to be the most fun and entertaining. This event is a completely student run program that has allowed me the opportunity to meet a lot of students I wouldn't otherwise have met and to work as a team to accomplish the bigger goal of putting on an all-encompassing party in celebration of Israel. So far, the experience has been fantastic. I have improved my leadership skills, learned a lot about the importance of transparent communication, and bonded with so many different students and Hillel staff members. I am so excited for the event and can't wait to see all the team's hard work come to life on April 23!
TH: How did you initially get involved at Texas Hillel?
ER: I initially got involved with Hillel through my participation in UTPac, but ultimately, I stayed involved with Hillel because of the strong sense of community I feel from being a part of it. College can be a very lonesome experience, but at Hillel the comfort I feel, the sense of community and belongingness, and the mental stimulation outside of schoolwork really creates a home away from home.
TH: What are some of your favorite activities or programs?
ER: My all-time favorite program besides Israel Block Party is the Hannukah- Diwali dinner. I have never laughed harder than when a Jewish Indian comedian took the stage and blew everyone away with his comedic antics about Jewish and Indian stereotypes. At the event they serve a delicious mix of both Hannukah and Indian foods followed by a fun sparkler extravaganza.