Q & A with Dani Gross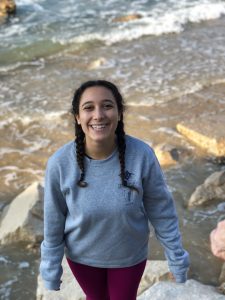 TH: What is your current role at Texas Hillel?  
DG: I am involved in a few things at Texas Hillel . I am on the board of Challah for Hunger and am the Head FII (First Impressions Intern). FIIs are the welcoming presence in the building and are known for being the first line engaers at Texas Hillel. You will see these students at the front desk taking calls, assisting staff with projects and helping anyone who comes into the building.
TH: How did you initially get involved at Texas Hillel?
DG: I initially came to the Welcome Back BBQ at the start of my freshman year and from there started to attend events and Shabbat. Challah for Hunger really brought me in and I joined other activities after that.
TH: What are some of your favorite activities or programs that you have attended at Texas Hillel?
DG: Some of my favorite Hillel programs are Shabbat 500, Period Packing Party through the Gender and Social Justice Committee, Challah for Hunger, Birthright and my personal favorite was the Latke Study break we did last semester. All of these things have very different purposes but it is the sense of community that brings them all together.
TH: Do you think Texas Hillel is meeting the students' needs and interests?
DG: I think Texas Hillel meets students' needs and interests no matter what they are. That's the great thing about Hillel - you can always find something that relates to you and interests you and if you can't you have the freedom to create it. A great example of that is the Texas Hillel Gender and Social Justice Committee. Through the committee, I travelled to Houston and helped people affected by Hurricane Harvey and have learned so much about a range of Social Justice issues. It was through this program that I went to the Woman's March  in Austin last year.
TH: Can you tell me a little about yourself? Where are you from? What are you studying?
DG: I am a sophomore studying Exercise Science in the School of Kinesiology. I am from Carlsbad, which is a small beach town in Northern San Diego, so I am a bit of a beach bum when at home. I am on a pre Physical Therapy track and plan to attend grad school for that eventually. I am VP Programing for my sorority AEPhi.