Q &A with Ariana Sonsino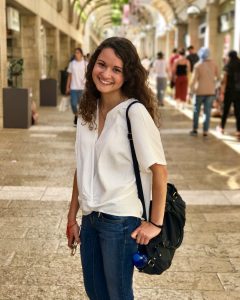 This month we are highlighting senior Ariana Sonsino. Since arriving on campus, Ariana has been an active leader at Texas Hillel. Now in her last year at UT, we wanted to find out about Ariana's many experiences at Texas Hillel.
TH: Can you tell me a little about yourself? Where are you from? What are you studying?
AS: I am a senior Theatre and Dance major from San Antonio, Texas.
TH: What is your current role at Texas Hillel?  Previous roles?
AS: Currently I serve as the Lead Campus Engagement Intern (CEI), training 10 amazing interns to seek out, engage, and network Jews around UT and the greater Jewish community. I have held various leadership roles within Hillel throughout my time at UT. I started out as a CEI my freshman year of college, became a First Impressions Intern, and served on the boards of Israel Block Party, Shabbat 500, and Challah for Hunger.
TH: How did you initially get involved at Texas Hillel?
AS: When I first came to UT, my older sister, who also was a student here, was extremely involved in Texas Hillel. She was on the executive cabinet and the Lead CEI, and she recruited me to be one of her interns. I watched her grow as a leader, and her involvement and successes inspired me to take on more leadership roles within Hillel. It is pretty cool to currently be in the position that she had as my Lead CEI, and I definitely use the skills and knowledge that I learned from her to train my cohort of interns.
TH: What are some of your favorite activities or programs at Texas Hillel?
AS: There are so many amazing programs that Hillel has to offer. I am a huge advocate for Birthright, and especially the trip that Texas Hillel embarks on. Texas Hillel brings the most qualified staff members who make it their goal to create a meaningful, exciting, and unforgettable trip for the students.
I also think the Israel Fellows program is one of the most special opportunities Texas Hillel has. Every one or two years, Texas Hillel brings in an Israeli to meet, engage, and form relationships with the students here. I have had the privilege of meeting and becoming very close with 3 different Israel fellows during my time here. Being able to form these relationships and understand the life and perspectives of individuals from the other side of the world, especially because we are constantly working to advocate for Israel, is unbelievably important and an incredibly unique opportunity.
TH: Do you think Texas Hillel is meeting students' needs and interests?
AS: Texas Hillel is a home away from home for so many students. It is a place where leaders are born. It offers opportunities for students of all backgrounds and different interests. It is a place where students can make connections, network, and form relationships. Most importantly, it is a safe haven for Jews. When anti-Semitic and anti-Israel sentiment circulates our campus, it is so important and comforting to have an institution like Hillel to be able to escape to and work to combat discrimination.