President Fenves Shares His Family's Story at Texas Hillel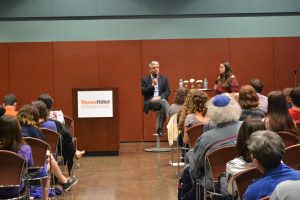 On Wednesday, April 25, Texas Hillel and the UT White Rose Society, a Holocaust remembrance and genocide awareness group, hosted President Gregory Fenves as this year's keynote speaker for our annual 10,000 Roses program. In November 2017, President Fenves was given the Guardian of the Human Spirit Award by Holocaust Museum Houston, and for the first time in a public forum, shared his father's story of surviving Auschwitz and emigrating to America. Our students reached out to President Fenves soon after and invited him to share the story on campus, at Texas Hillel, as part of a series of programs connected to Yom HaShoah.
In front of a packed house of students and community members, President Fenves told his family's story, including their life in Hungary before World War II, his father's experience surviving Auschwitz, the trauma of losing family and one's home, his eventual move to America, and how these experiences have impacted him and his family. One of our student leaders led an interview-style Q & A session after, speaking more about how President Fenves' family story impacts his role as UT President, and about Holocaust education and awareness in today's world. At the start of his talk, President Fenves chose to move away from the formal podium and microphone stand, sharing that unlike most of the speeches he gives, this was personal, and about family. At the conclusion of his remarks, the students gave President Fenves a standing ovation. The emotion, strength, and passion in the room was palpable.
This incredible program was one that those in attendance will not soon forget, and a landmark moment for the Jewish community at UT and Texas Hillel. Seeing the leader of our university share so openly about his heritage and family history, shared by so many in the room, was very powerful. We are fortunate to have such incredible student leaders who were able to organize this inspiring event and bring our together community.
Watch a video about the speech from UT student Benjamin Cohen KVR news.