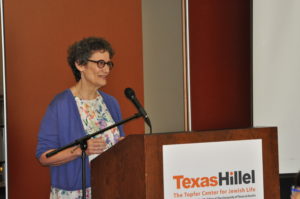 Margo Sack Retires After 24 Years at Texas Hillel
On Sunday, June 25 more than 150 students, alumni, community members and staff gathered at Texas Hillel to honor Margo and her legacy.  Margo's retirement party was a celebration of her warmth, humor and dedication to thousands of students and the Jewish community in Austin.  Throughout the morning, many attendees noted the number of people Margo impacted and the magnitude of that impact.  As one speaker noted, Texas Hillel and Margo Sack have become synonymous, with Margo's reputation as big as Texas.
After some schmoozing and noshes, Jim Sud, Alumnus and Texas Hillel Board President, welcomed attendees to the event and spoke of his gratitude and affection for Margo and her tireless engagement of students.  Jim also introduced the Margo Sack Rising Star Award that will be given annually at the end of year student celebration.  The award will be given to students who demonstrate significant promise consistent with the mission of Texas Hillel and who are beginning to take formal or informal leadership roles.  We believe recipients of the Rising Star Award will embody the traits for which Margo is best known, such as approaching people as individuals, being inclusive and understanding of all perspectives. 
The next speaker, Brian Brochstein, 2016-2017 Student Executive Cabinet Member, gave a heartfelt speech, with a few laughs, telling how much he learned from Margo while working closely with her.  Next Ian Spechler, Alumnus and Texas Hillel President Elect, spoke of Margo's impact on his Jewish life, read a laudatory message from University of Texas President Greg Fenves and introduced a tribute video.  After the video, which included messages from Comedian Benji Lovett and Hillel International CEO Eric Fingerhut, Alumnus and Associate Director of Development, Hillel International, Jenna Rabhan spoke of her decades-long friendship with Margo.  Their relationship began when Jenna was a student at Texas Hillel, grew as Margo became a mentor and colleague and now continues as a close family friend.  Maiya Chard-Yaron, Texas Hillel Executive Director, concluded the event with a heartfelt thank you to Margo. 
The event was a bittersweet goodbye to someone who has mentored thousands of students over 24 years at Texas Hillel.  Without question, Texas Hillel wouldn't be what it is today - a welcoming, engaging Jewish community – were it not for Margo's influence and dedication.
There's still time to honor Margo!  You can write a personal message for her tribute book and make a donation to the Margo Sack Tribute Engagement Fund until August 31 at www.texashillel.org/margo.