Life's Big Questions - a New Curriculum for an Ancient Text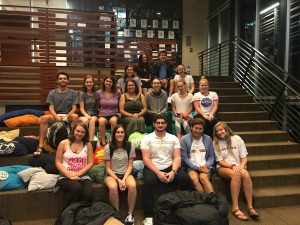 Texas Hillel introduced a new learning fellowship this semester called Life's Big Questions. This course is a 10-week conversational seminar for students who are looking to deepen their understanding of Judaism. Life's Big Questions introduces students to the study of Torah, the practice of the Jewish calendar and life in a Jewish community in a pluralistic environment. The course is taught by senior educators, Texas Hillel's Executive Director Maiya Chard-Yaron and Congregation Agudas Achim's Rabbi Gail Swedroe. Click here to read more about Life's Big Questions.
In addition to providing students a social network and community in the class, this seminar is anchored in study of classical Jewish texts and draws on the life experiences and intuition of college students to inspire conversation and reflection on topics such as friendship, constructive disagreement, Passover and identity, relationships, Shabbat, and more.
During the seminar, the cohort will celebrate a Shabbat together and meet one-on-one and in small groups with the educators.  Students also have the opportunity to earn a $300 stipend for their participation. Thank you to Hillel International's Office of Innovation for their support of this program!