Just Another Tuesday evening at 21st and San Antonio!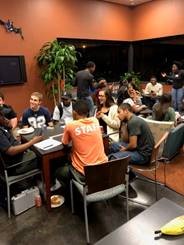 Texas Hillel offers students different pathways to connect with Jewish life. That's why hundreds of Jewish students walk through Texas Hillel's doors every week. Here's a brief glimpse of what you might see and hear if you stopped by Hillel on a Tuesday night in late November:
75 Birthright Israel participants, departing this December, getting oriented to their groups and the trip schedule with an interactive tasting tour of Israel.
Challah for Hunger volunteers braiding loaves to be sold on campus this week, with the proceeds benefitting local and national organizations fighting hunger.
Clusters of students from the Black-Jewish Student Association, coming from diverse religious and cultural backgrounds, enjoying a social night of board games and mingling.
A pre-trip meeting for students traveling to Florida this Winter Break to volunteer with Give Kids the World, a program for children battling life-threatening illness.
Students gathered around conference tables for this week's sessions of the Jewish Learning Fellowship and the Jewish Executive Mentorship program.
Volunteer student chefs frying latkes in preparation for Thursday's 3rd annual Hanukkah-Diwali Dinner, a partnership between Texans for Israel, the Indian Cultural Association, and Hindu Students Association.
These programs are just a few examples of the incredible work our student leaders and staff do throughout the year. Student empowerment, community building, Jewish education, and service are at the core of Hillel's work on campus. We need your support to continue to offer these programs, opportunities and learning experiences. As the end of the year approaches, please consider a gift to Texas Hillel to support meaningful Jewish experiences on campus and to inspire the next generation of Jewish leaders. Go to Texas Hillel today to show your support.