Israel Fellows on Texas Hillel's Israel Diversity Panel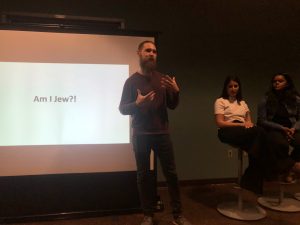 Shimi is a Jewish Agency Israel Fellow at Texas Hillel from Ma'ale Adumim, Israel. He is 28 years old and served as a technician in the Israeli Air Force. He holds a Bachelor's Degree in Political Science and International Relations from the Hebrew University in Jerusalem, where he was active in the Model United Nations Program.
Simha, 29, is Jewish Agency Israel Fellow at Cornell University. She was born in Israel in the northern city of Afula to an Ethiopian Jewish immigrant. Simha was an officer and a commander in the IDF and graduated from Ben-Gurion University in Be'er Sheva with a Bachelor's degree in political science and Education. She is taking part in "Atidim", a governmental program aiming to promote changes in the local government at the social and geographic periphery of Israel.
Andrey, 26, joined Hillel JUC in Pittsburgh. While he was born in Uzbekistan, Andrey grew up in Russia and made Aliya to Israel when he was eight years old. He served in the IDF in a Special Forces paratrooper unit. After IDF, Andrey studied Middle Eastern and Islamic history and Asian Studies at the University of Haifa.
Nofar, 27, is a Jewish Agency Israel Fellow at Houston Hillel. Nofar is a first generation Iraqi Jew whose family escaped from Iraq to Israel during the Operation Ezra and Nechamea (1951). Nofar served as a commander in the IDF and studied political Science and public policy. Nofar worked for the Israeli Parliament (the Knesset) for few years prior to her Shlichut.