Support Israel Block Party
Texas Hillel's nationally acclaimed, annual Israel Block Party is on Wednesday, March 28th on the East Mall at the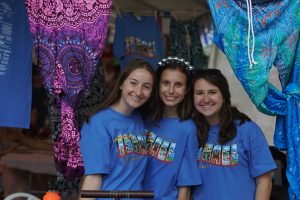 University of Texas at Austin.  In its 20th year, Israel Block Party is the largest pro-Israel campus event in a 16-state region.  As Israel turns 70 this year, thousands of students, faculty and community members will come together at Israel block Party to celebrate Israeli culture, explore the Texas-Israel connection and promote Israel advocacy right in the heart of the UT campus.  Funds raised for Israel Block Party are used for volunteer advocacy training, promotional materials and logistics for the event.
With today's rapidly changing political climate, it is more important than ever that we take a strong stand to make sure that American support of Israel is one that does not waver. We at Texas Hillel can think of no better group to spread this message to than the future leaders who attend the University of Texas. At the Israel Block Party we aim not only to showcase all the values which make Israel the great country it is today, but also to empower students to get more involved and hone their leadership skills.
While student leaders are putting in the work to make this event a success, Israel Block Party is not possible without the unwavering support of the community and individual donors.  It is with this in mind that we ask you to help us make this the most meaningful and impactful Israel Block Party yet! Click here to donate to the 20th Anniversary Israel Block Party.  
For additional information contact:
Israel Block Party Co-Chairs
Rachel Sasiene, rachelsasiene@aol.com
Elah Shalev, elahshalev@gmail.com
Fundraising Chair
Sam Zwirn, samzwirn1@gmail.com
HaTikvah Package: $10,000
Overall "Shuk" sponsor recognition, Logo/listing in Texas Hillel newsletter, website and social media, Permanent recognition at Texas Hillel, The Topfer Center for Jewish Life-The Abe and Annie Seibel Building
Largest print on all event materials
Star of David Package: $5,000
Tent named in your honor, Large print on all event materials
Blue and White Package: $3,600
Activity named in your honor (Camel rides, food, etc.), Large print/Logo on all event materials
Friends of Israel Package $1,800
Large print/Logo on all event materials
Gold Package $1,000
Medium print/Logo on all event materials
Silver Package $500
Small print/Logo on on all event materials
Bronze Package $100
Recognition on all event materials