Israel Block Party Was a Huge Success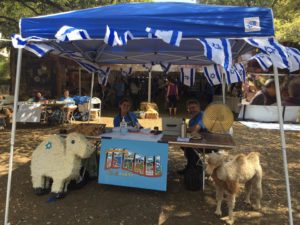 For the 19th year, Texas Hillel showcased the greatest aspects of Israel to UT students, faculty and community members at its annual Israel Block Party.  Designed to engage and teach students about Israel in an exciting and interactive way, this year's Block Party highlighted Israel's innovation, diversity, government and culture with a shuk- theme (Hebrew word for market).  With more than 8,000 visitors throughout the day, the Israel Block Party on March 22nd on UT's East Mall brought awareness, Israel advocacy and education to the campus community.
This year's Israel Block Party was held under one large tent to recreate an Israeli Shuk, a bustling Middle Eastern market, with food stalls, merchandise vendors, games, Israel displays and camels.  Guests walking through the busy market got to experience a little bit of Israel while finding what interested them about Israel.  Guests schmoozed and talked Israeli politics over free coffee at the Discussion Café.  Many people experienced virtual reality for the first time with a "visit" to Israel.  Shoppers found lots of deals at stalls selling elephant pants, coin purses, nuts and jewelry.  Many people lingered to talk and learn about different organizations, such as the Israeli Consulate,  HINENU/Hillel International, Schusterman Center for Jewish Studies, Camp Young Judea and JNF.  Other student-favorite activities included learning Hebrew, pita making, trying on tefillin, henna tattoos, Israel Jeopardy and selfies with camels.  And, in the spirit of a true shuk, guests snacked on falafel, bourekas, salads and Israeli candies. 
As the largest pro-Israel college event on a college campus, the Israel Block Party demonstrates Texas Hillel's commitment to building a pro-Israel environment on campus.  With hundreds of volunteers and record-breaking attendance this year, we achieved our goal to engage and teach students about Israel in an exciting and interactive way.