Give Kids the World Alternative Winter Break Trip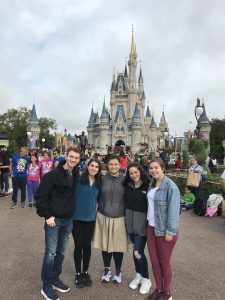 This January, five Texas Hillel students volunteered on an alternative winter break trip with Give Kids the World (GKTW) in Kissimmee, Florida. GKTW is a non-profit organization that provides children with life-threatening illnesses and their families a weeklong, cost-free trip. Through Texas Hillel and Give Kids The World, Texas Hillel students spent five days volunteering, developing leadership skills, learning about repairing the world through a Jewish lens, and working as a team in the GKTW village.
GKTW provides families a break from the hardships of dealing with life-threatening illnesses with fully-furnished villas in the GKTW Village, tickets to Central Florida theme parks, meals, daily entertainment, and, mostly importantly, a much needed respite.  Volunteers get an immersive, life-changing volunteer experience like nothing else. Trip leader and second-year volunteer Susie Alalu, a Liberal Arts Honors senior majoring in Humanities from Miami, FL says, "While completing over 60 hours of shifts the past two years, I've been able to take on many different volunteer roles. From serving breakfast, scooping ice cream at their Ice Cream Palace, painting nails and doing makeup, to even dressing up as a reindeer for their winter wonderland parade! Give Kids the World relies on their volunteers to keep the village running, needing to fill around 1800 volunteer shifts per week. Knowing that I can make a difference in the families' lives is the most incredible feeling. Seeing tears of joy from the parents watching their children partake in these new experiences is so special. Not only have I gained fond memories of dancing, laughing, and conversing with these families, but I have gained a new level of compassion and empathy for them knowing of their financial, emotional, and physical burdens." For Susie and many other students, the GKTW alternative winter break trip is the volunteer experience of a lifetime!
To learn more about this incredible alternative break trip, contact Rebecca Mather.