Campus Engagement Internship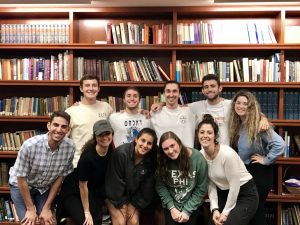 Now in its tenth year at Texas Hillel, the Campus Engagement Internship (CEI) program is an incredible opportunity for students to network with other Jewish students, grow professionally, develop leadership skills and work with an outstanding team of peers. The CEI program is a two-semester commitment that students apply to and, if accepted, receive a stipend for their work. This year there is an amazing cohort of 9 active CEIs and 1 CEI Lead who assists in facilitating weekly meetings and developing the meaningful content the students explore weekly.
Every year, 10 students are trained to identify and build relationships with students who might not otherwise get involved at Texas Hillel or in Jewish life on campus. Because the CEIs are involved in different communities and groups on campus, they are able to reach a broad demographic of Jewish students. Through coffee dates, small get-togethers and events at Texas Hillel, interns connect with students by understanding their interests and linking them to opportunities that they will find meaningful and engaging. About the CEI program, Adam Bergman, a current intern and sophomore from Dallas, TX majoring in Spanish and Advertising says, "I have the ability to reach to so many students on campus to discuss personal goals, interests, and ways to get connected with Hillel. The CEI program is filled with student leaders with similar mindsets like mine: eager to network, loving what they do, and actively representing the best of what Texas Hillel has to offer."
CEIs benefit both personally and professionally from the CEI program. Interns build broad social networks with a variety of students, learn to create programs and small events with meaningful Jewish content, and enhance Jewish life on campus. Additionally, with training and engagement work, student interns develop active listening, leadership and communication skills. With these experiences, many interns go on to become leaders in the Jewish community post-college as well as creating life-long friendships.
With such an exciting, motivated group of interns this year, we can't wait to see the different engagement opportunities they create and the connections they make to other Jewish students.