Alumni Spotlight with Jori Epstein
By UT student Jaxie Pidgeon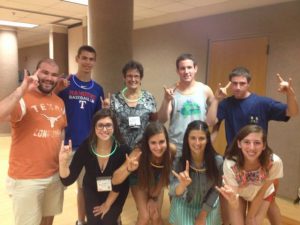 What do you get when you cross academic excellence, a strong value system, and a passion to tell stories that matter?  You get a dynamic UT alumna named Jori Epstein. By Jaxie Pidgeon
Jori Epstein joined USA TODAY Sports as a Dallas-based NFL reporter in October. Previously, she worked for The Dallas Morning News, Sports Illustrated and the Philadelphia Daily News. And all this just 3 years out of college. Jori graduated from the University of Texas in 2016 with degrees in journalism and Plan II Honors. I had the privilege of interviewing Jori for Texas Hillel, which was a particular pleasure because I am a journalism major at UT with a passion for sports broadcasting and a passion for Judaism. Here's what I learned about this remarkable young woman:
Jori's family instilled a sense of Jewish pride that began as long back as she can remember. She grew up learning about Judaism and finding enrichment through Jewish schools and camps. In high school, she attended a BBYO summer program called Impact Boston. While there, she worked with a homeless newspaper in Boston, the idea being that members of the homeless or street community could write for the paper as a way to express themselves and sell it to make money. This experience instilled in her a deep concern for homelessness and she was determined to take what she'd learned home to Texas.
Coming to The University of Texas was her first time away from Jewish day school and she quickly found that Hillel was the place that could foster her love for Jewish learning as well as be a "home away from home." It was also Hillel that supported her decision to bridge Austin's homeless newspaper with the UT-area street community, and gave her the guidance to bring the program to fruition through its campus engagement "Tzedek" internship. The Tzedek internship included weekly meetings and philosophical conversations which gave her a stronger understanding of her Jewish identity and how she wants to use this knowledge and faith to better the world, Tikkun Olam.
Other favorites at Hillel included Jewish Learning Fellowship, social justice programs, and student leader dinners where she met and networked with community leaders and scholars. Her four years at Hillel helped empower her to chase the things that she was passionate about, and further, she realized that her success in life would have a direct correlation with being proactive about asking for the resources. Hillel instilled ethics in her that she now applies in her professional and personal life.
Throughout college, she kept a fast pace academically, worked for the sports department of The Daily Texan, enjoyed Greek life with Alpha Epsilon Phi, joined the Friar Society, and played intramural volleyball, water volleyball, flag football, softball, and basketball. But, she always made time for Hillel and found comfort in her Jewish roots.
Currently residing in Dallas, Texas, the USA Today reporter is finding time to put her journalistic talent and her passion for Judaism to pen 91-year-old Holocaust survivor Max Glauben's memoir. She says it is imperative that the world know Max's story to help combat prejudice and hatred, and that it is archived for future generations so we will never forget.
In her rare spare time, Jori finds time to keep physically fit through rec volleyball and running at Katy Trail or White Rock Lake, and she enjoys spending time at Intown Chabad and Congregation Shearith Israel where she is surrounded by a young professional Jewish community.
This past February, Jori covered the Super Bowl for the first time. In the Atlanta Falcons' stadium, she accidentally walked in through a different entrance than her media credentials intended. Walking into this wrong entrance, she immediately saw a permanent art installation with a quote from Hillel the Elder that read, "If I am not for myself, who will be for me? And if I am only for myself, then what am I? And if not now, when?" She was floored and truly inspired that you can literally be anywhere – even the Super Bowl! – and Hillel will be there with you.
Jori's accomplishments are inspiring, and she is just beginning to make her mark. She is extremely thankful for all of the opportunities that Hillel has created for her and for the way that Hillel represents the Jewish community on campus. She says that her fellow Longhorns should consider how they can use their skills and resources to pay it forward. "We are all so blessed to have opportunities, like attending UT. Going to a place like UT, that has so many resources, it was so clear that the people before me had given back to the community to create those opportunities so you should give back too," she said. "Hillel can't work without students, so the more involved you are as a student, the more resources will be available to you, and the better it is going to be for everyone."