Allison Stern Shares the Impact and Meaning of her Alternative Spring Break Trip to Argentina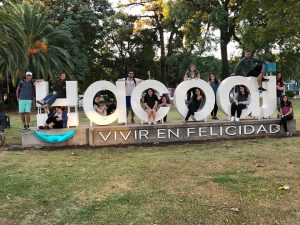 This past spring break I was given the opportunity, along with 11 other college students, to travel to Buenos Aires, Argentina through JDC Entwine's program "Inside Jewish Argentina". We spent a week traveling around the Buenos Aires area, experiencing the culture, and learning about Jewish life. When I first heard about this program last year when one of my close friends participated, I was a little confused. Did Argentina really have that large of a Jewish community that you could spend a whole week learning about it? To my surprise, on this trip I learned that Buenos Aires had a vibrant Jewish community that was actually the 6th largest in the world outside of Israel and the largest in Latin America. Every single day on the trip I was more and more amazed of the community I saw and got to interact with.
The program was set up to educate us by seeing, interacting, and discussing. One of the major events that affected the community was the economic crisis of 2001. Many of the programs we visited were established or grew during that time to help counteract this crisis. I was unaware of how major this crisis was and how much it affected the community until I heard the stories from the leaders of these programs. Some of the most influential places we visited for me were the Weitzman Jewish day school, the L'Dor V'Dor Jewish elderly home, and the Hacoaj Jewish country club, which all were affected or created due to the economic crisis.
Being able to interact with the Jewish community in Buenos Aires, especially the elderly from L'Dor V'Dor and the children from the Jewish day school, was really impactful for me. I am very interested in other cultures and how they are different and similar to my own. It was exciting how much I could relate to them even through the language barrier. Sometimes I forget about the Jewish communities outside of Israel and America but it was such an eye-opening experience to see just how strong this community was. This program left me inspired to continue to learn about other Jewish communities around the world and gave me a sense of responsibility to not only take care of my Jewish community, but communities all over the world.
Allison Stern is a sophomore from San Antonio, TX majoring in Public Health.