A Q & A with Maiya Chard-Yaron, Texas Hillel's New Executive Director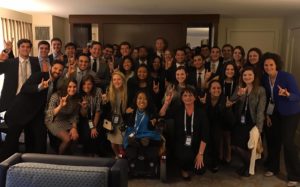 TH: Why were you interested in the Texas Hillel Executive Director position?
MCY: The incredible drive and caliber of Texas students, a supportive and engaged community, and the opportunity to build on a solid foundation laid by the leaders who came before me all make the Texas Hillel Executive Director job something that was very exciting to me as a professional who has been a part of the Hillel movement for several years. When I began thinking about opportunities to be a Director, Texas was on my "short list" of dream jobs. The position wasn't available at the time, but when it opened up, I knew I needed to jump on it.  
TH: What are some immediate, short-term goals for Texas Hillel?  What are several long-term, big-picture goals for Texas Hillel?
MCY: We have hired several new staff members, so a short term goal is building a strong team culture so that we can best meet the needs of our students and continue to grow the opportunities offered through Texas Hillel. We are looking to continue many of our signature, successful programs and initiatives, and also find new ways to engage students. Thinking further into the future, I would like to see us continue to raise our profile in partnering with other groups on campus, and become a national leader in student engagement and leadership development amongst Hillels. We have some of the most talented and motivated students in the country, and I'm looking forward to seeing what we can build as we move forward!
TH: What do you see as some of the biggest challenges facing Texas Hillel or Hillels, in general?
MCY: College students increasingly have more and more pulls on their time. The evolving nature of social networks, technology, and how people interact with each other requires Hillel to think in new and innovative ways about how to engage students and build communities effectively.
TH: So far, what has surprised you the most about Texas Hillel?
MCY: We might be physically located in Austin, but I know that people throughout the state (and the country!) feel very at home with us. That's something I love about the UT community.
TH: What do you like to do outside of work?
MCY: Crossfit, explore different places in Austin, go to sporting events.
TH: What do you think of Austin so far?
MCY: It's everything I thought it would be - friendly people, lots to do, fun focus on food and fitness, and a good blend of native Texans and transplants, like me. 
TH: One final question.  Have you bought anything burnt orange yet?  
MCY: OF COURSE!  Hook 'em!