84 University of Texas Students Visited Israel during Summer 2017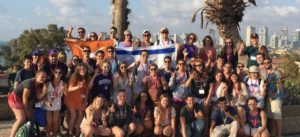 Rabbi Moshe Trepp led to two trips, affectionately called "Trepp's Trips", for 16 days on a journey of learning and discovery through Israel.  The first trip consisted of undergrads who had previously been to Israel on a Birthright trip.  The second group, which overlapped for 11 days with the undergraduate trip, was for graduating seniors who had also previously attended a Birthright trip.  The trips were a new way to see Israel, with Jewish learning in the morning, fun, adventurous activities in the afternoon and free time in the evening.   
 Another group of University of Texas students traveled to Israel for the first time for free this summer with Texas Birthright Israel.  For 49 University of Texas Students, it was the first opportunity to explore the Israel, connect with other Jewish UT students and strengthen their Jewish identities.   Activities included dining in Galilee at sunset, relaxing by the Netanya beach, engaging with diverse communities, and journeying through the rich culture, religion, and history of Jerusalem.   As Junior and UT Student Government University Wide Representative Chloe Harfield says, "Not only did I have the chance to better understand my roots, I got to do it with people who have become some of my closest friends. I'm so grateful for this experience."  This adventure of a lifetime is not to be missed!  
To learn about the next Trepp Trip in May 2018, contact Rabbi Moshe Trepp.  There's still time to register for the next Israel Birthright Trip from December 27, 2017 -January 7th, 2018!  Students can sign up today at www.texas2israel.com!  The first bus is already 75% full.  Have questions?  Email Zach Silverman, Senior IACT Birthright Israel Engagement Coordinator and trip leader.