10,000 Roses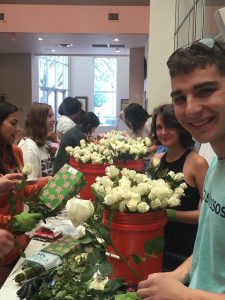 Every spring, students look forward to 10,000 Roses, a 2-day event hosted by The White Rose Society.  A genocide prevention and Holocaust remembrance organization at Texas Hillel, The White Rose Society is inspired by the original White Rose Society, a small group of German students who formed a clandestine resistance against the Nazis in 1930's Munich.  During 10,000 Roses, hundreds of volunteers will de-thorn and distribute 10,000 roses across the University of Texas campus that represent the number of Jews murdered in one day at Auschwitz.  In addition to reminding the campus community of the victims during the Holocaust, The White Rose Society also seeks to highlight and address current social injustices.  The White Rose Society believes actions against global injustice start with education and initiatives on a local level, and that by learning about past human rights violations, people are better equipped to understand human rights violations today. 
10,000 Roses will begin Tuesday, April 10 when volunteers gather at the University Catholic Center to de-thorn and attach notes to 10,000 white roses.  The notes will detail the significance of 10,000 Roses and highlight a current social injustice and action items.  On Wednesday, April 11, hundreds of volunteers will distribute 10,000 white roses throughout the day on campus.  In the evening, there will a Yom Hashoah memorial service to commemorate the victims of the Holocaust and to draw parallels between Jewish refugees in the 1930s and the refugee crisis today.
Later in the month, on April 22, Texas Hillel, one of three campus selected by Hillel International, in partnership with JDC, will host a refugee justice and education program.  The afternoon-long program will have two major components.  With Heart to Heart, a humanitarian organization, volunteers will assemble hygiene kits to be disseminated to Syrian refugees.  Following the kit assembly, there will be an educational program to increase community empowerment in taking action to support refugees and a refugee or asylum seeker speaker from Casa Marianella, a homeless shelter in east Austin serving recently-arrived immigrants and asylum seekers from around the world.  As one of the first ever hosts of the "Ripple: Learning and Taking Action to Support Refugees" program, Texas Hillel is thrilled to host this special and meaningful opportunity to educate the community on refugee and asylum seeker justice.
To learn more about Texas Hillel's White Rose Society or upcoming events, contact Rebecca Mather, Texas Hillel Social Justice Coordinator.