JDC Alternative Spring Break Trip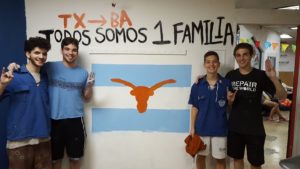 In 2004, just after the economic crisis in Argentina, Texas Hillel had the unique opportunity to send a group of students to show support for the Jewish community. Over a decade later, Texas students continue to travel overseas with JDC Entwine -- with 14 total trips traveling to Argentina, Hungary, and Romania, engaging more than 300 Texas students. These trips have had life-changing impact on so many participants.
"Travelling to Argentina was one of the greatest experiences I have ever had through Hillel. As someone who hasn't had the opportunity to travel much, it was inspiring to see a different culture and to get the chance to meet the Jewish community of Buenos Aires. We made global Jewish connections and realized the similarities between Jews around the world-- even as we have different national cultures."  -Graeme Campbell, Jewish Studies and History major, Houston, TX
In 2018, Texas Hillel will partner with JDC Entwine on the 15th annual trip to Argentina where participants will connect with peers and local Jewish institutions, engaging a new group of students in JDC's global work.
This year we are reaching out to all of our alumni and supporters to help raise funds for the 2018 trip. Our goal is to raise $10,000 in subsidies for participants. Each dollar raised will be matched by a generous donor -- a contribution of any amount will make a lasting impact!  Please fill out the form below to make a tax deductible donation today.
Thank you so much for your generous support in continuing our Texas tradition.